"Nice Weather We're Having": Trends in Pearson's Writing and Analysis By Mandy Blakeman
Taking a closer look at Pearson's frequent mention of the weather and how it changes throughout his diary surprisingly reveals quite a bit about Pearson's development and maturity as a person, providing an excellent example of just how diaries are valuable historical sources; while examining this from a human analytical perspective is certainly possible, computational tools can be used as concrete evidence to further support a point beyond speculation or potential human error. Pearson mentions the weather, both good and bad, frequently throughout his diary, but does so most when he begins writing it in 1828. Pearson's mention of the weather was a little too frequent to be written off as just a strange coincidence, so I turned to computational text analysis for help deciphering trends that are beyond human observation, beginning with the Voyant word cloud tool. Word clouds are visualizations of the most commonly appearing words in a text - Pearson's diary from 1828-1832, in this case. The cloud on the left below shows the most common words in Pearson's diary with stop words removed, meaningless words such as "the", "a", "that", etc. Weather comes out as the single most used word in Pearson's diary during this time at 597 distinct instances of use, the first computational clue that "weather" is worthy of study. However, the days of the week and years are also present as commonly occurring words, as expected in a dated diary; with those removed (right, below), "weather" still emerges as a huge topic in the diary.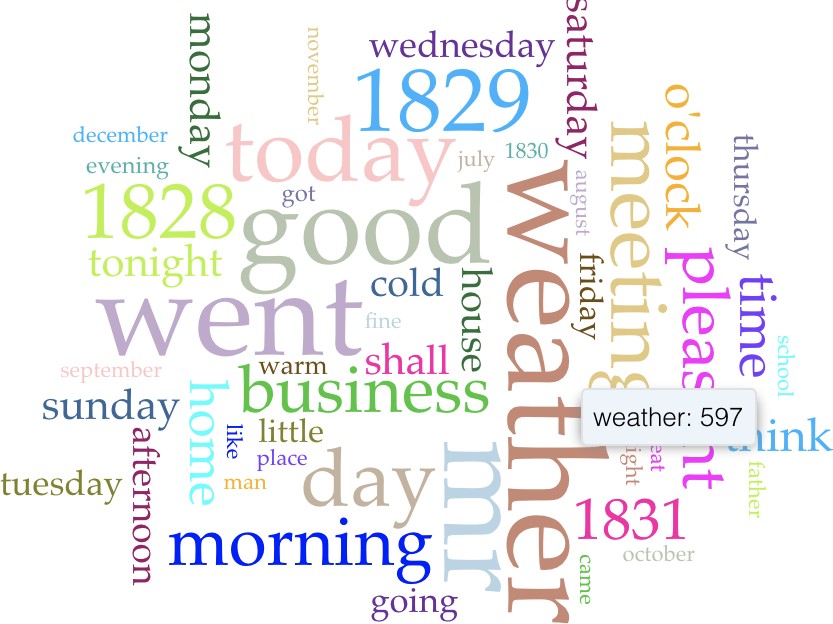 Word Cloud #1: stop words removed Word Cloud #2: stop words and dates removed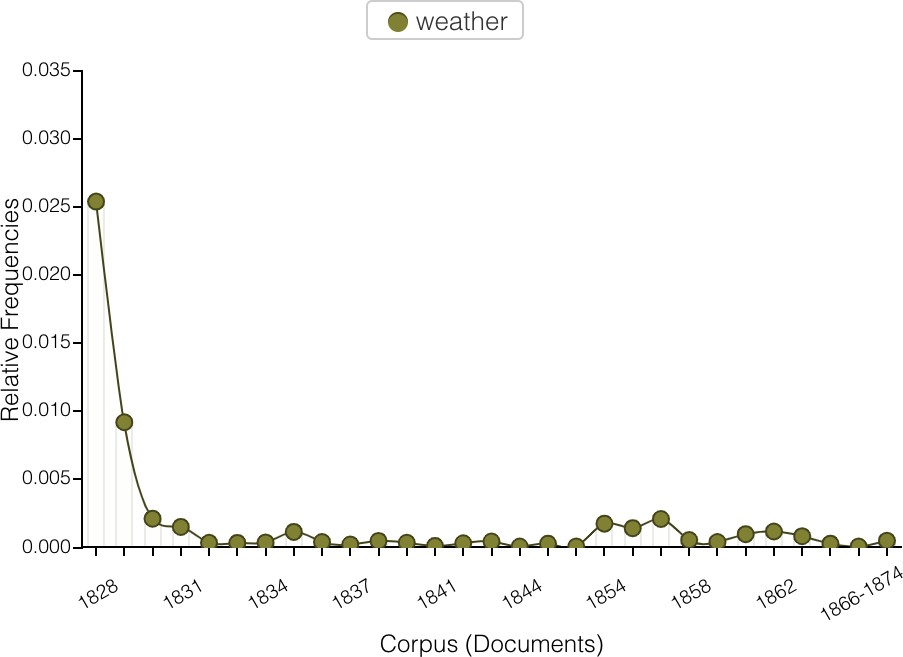 The word cloud, while a useful starting point, does little to display how the word is used in Pearson's diary, a necessary factor in looking at growth and maturity over time. A simple line graph visualizes how often the word is used (as a percentage known as relative frequency) over each year of data. In the early years of his diary writing, it is clear that Pearson wrote a great deal about the weather as compared to his subsequent writings--to an extreme, even, given the very sharp downward trend of the graph, followed by its relative consistency. A reasonable explanation for this is that Pearson relies on the conventions of diary writing; as a new diarist, he may have been unsure of what to write,
so he writes about something that is sure to happen every day with the weather. The topic of weather may have allowed Pearson to get comfortable with writing daily diary entries, and as he got comfortable, he eventually relied on it less and less. He still mentions the weather later on, especially between 1850-1858, but a great deal less.
At that time, perhaps he again fell back to
convention to avoid discussing other issues Graph: Relative Frequency of "Weather", 1828-1874
in his life, or the weather was particularly noticeable those few years.
To expand further on how, exactly, Pearson used the word weather, Voyant's Word Link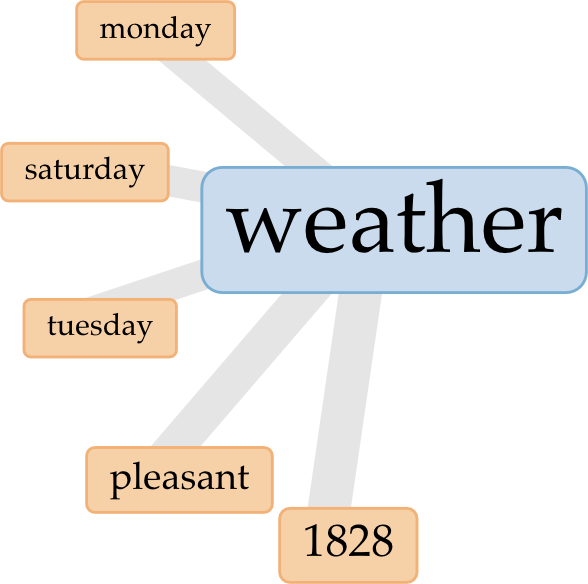 tool proved useful in demonstrating the connections between relative word frequencies. It maps the chosen word - "weather" - and the words it most commonly appears within the text, showing correlation between words. "Weather" regularly appears with different days of the week, a rather predictable trend given the common form of a diary, much like how the days of the week appeared as commonly used in the word cloud. "Weather" and "1828" are also strongly linked, further
Word Link visualization highlighting word usage correlations in Pearson's Diary. indicating Pearson's reliance on the weather as a topic in his early diary entries. What came as somewhat of a surprise was how "weather"
was linked with "pleasant," a descriptive word for the type of weather Pearson describes; the word pleasant gives even more insight into the conventions that Pearson falls back on—one might even say pleasantries, in this case.
When graphed together, "weather" and "pleasant" follow the same general trend of use, displaying a high relative frequency around 1828, and dropping to relatively infrequent use very sharply in the years following. Note that the term "pleasant*" uses an asterisk or "wildcard" to expand upon the original term to include a variety of suffixes such as -s and -ed. This is further proof of Pearson's expanding prowess as a diarist, as the trend is not limited to just one word, but rather a grouping of words.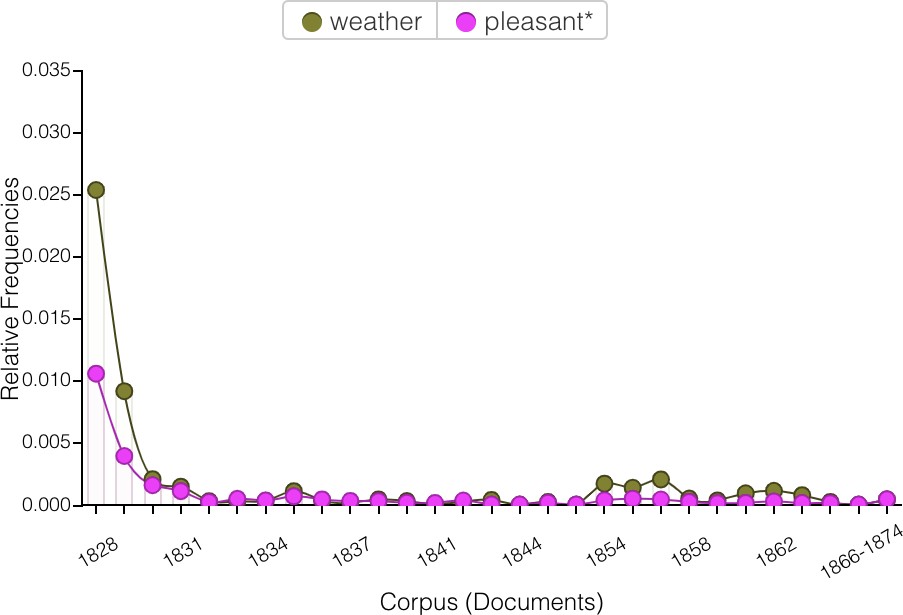 Graph: Relative Frequency of "Weather" and "Pleasant" over the years 1828-1874.
Identity and Power at Union College: Connecting to Pearson's Use of "Indian Summer"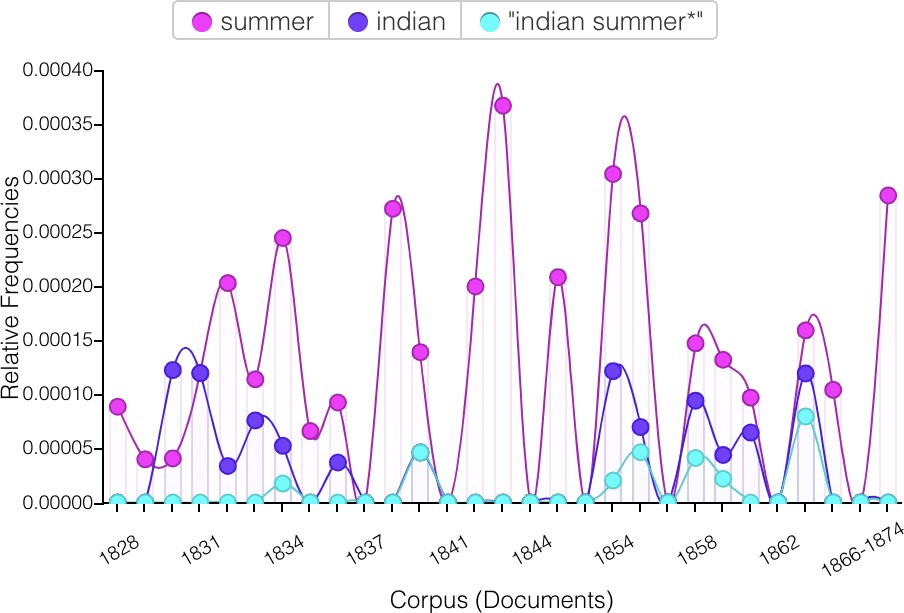 Pearson's diary was a public way to display his status as an educated and religious man, therefore showcasing his inherent social power (see resource titled "What Makes a Diary?: Pearson's Diary and the Conventions of
Diary-Writing" for further information). This is reflected in the language he uses to describe different types of weather. While rarely, if at all, mentioned in his early days of relying on convention, i.e., the curious solo use of the weather, Pearson later employs the term "Indian Summer" in his diary writing, a term that society now considers to be negatively racially charged.
Graph: Relative Frequency of "summer", "indian" and "indian summer*" from 1828-1874
The line graph of relative frequency (above) displays this trend, with the individual terms "summer" and "Indian." The use of "summer" goes up and down every few years, perhaps following an expected pattern of weather for the given climate. "Indian", however, appears at the very beginning of the diary, in 1830-1836, and again from 1854-1863 towards the end. "Indian Summer"—and its potential derivatives, such as "Indian Summers", marked by the added * symbol—does not appear in the diary until 1834, and not with a significant relative frequency until about 1855. The terms all appear in vastly different patterns, and without any context or correlations between the terms, it is difficult to determine why these patterns might exist.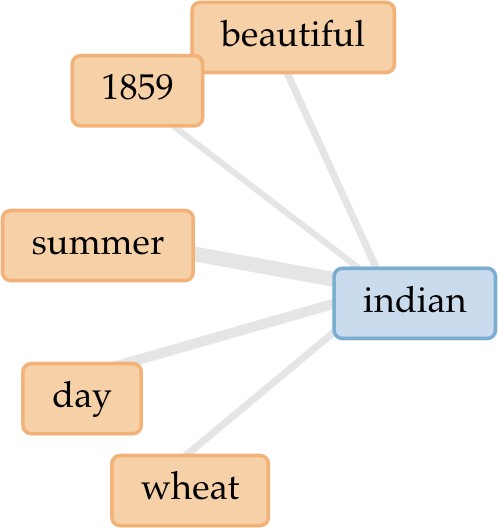 Voyant's Word Link visualization is again useful here to provide some insight into how these terms might be connected. The term "Indian" is connected the most to the term "summer," displayed by the thicker line connection in the image, and suggesting that there is perhaps some overlap between the graphed terms in the relative frequency image.
Also worthy of note is the term "indian's" connection to pleasant weather in the word "beautiful". This indicates that the term "Indian" is not most often used in
Word link visualization using "indian". a derogatory sense, or at least not by itself.
The phrase "Indian Summer," however, is a more antiquated term that certainly has problematic racial connotations. As a result, it is used with far less frequency, and so a modern reader might be unfamiliar with the term. As a noun, "Indian Summer" refers to "a period of unseasonably warm autumnal weather" and is a term rather unique to North America ("Indian Summer, n."). However, in the figurative sense, "Indian Summer" also notes a sort of idyllic period of happiness late in life, playing on the exotic and mysterious stereotype of Native Americans. Based on the previous graphs and visualizations, it appears that Pearson used both meanings of the term, given the term "indian's" connection to beautiful, and the trend of employing the term late in his life. In terms of identity and power, Pearson contributed to a harmful system of power by employing this term, however unintentional. Since the term
connotes an exotic and stereotypical view of Native Americans, it marginalizes an entire group, therefore partly reinforcing a system that keeps educated white men like Pearson in power.
The Broader Trend: Pearson's Quirk or a Fact of History?
So far, my analysis has been limited to just the trends in Pearson's diary, but to make a broader conclusion about diaries--and their form--in general, consider the extensive analysis of the similarly detailed and widely studied diary of Martha Ballard, an early 19th century midwife. Noteworthy digital humanists have studied her diary at length, using it to exemplify how digital humanities work can be valuable in historical and literary analysis. Ballard, like Pearson, kept a very detailed diary for an extensive period of her life, noting things like the weather quite often. One famed digital humanist, Cameron Blevins, looks at Ballard's seemingly mundane use of the weather to exemplify how the topic can be used to glean valuable information about the past.
Deceptively irrelevant, the weather, more specifically cold weather, appears in patterns in Ballard's diary: its mention goes up in the colder months of December, January, and February, and down in the colder months of June, July, and August (Blevins). Seasonally, this makes sense, much like how Pearson's use of "Indian Summer" increased during the times at which it was applicable to the weather. However, with his analysis, Blevins sets the stage for how an analysis of the weather is important and something that should not be ignored in a historical diary. And, given how it appears in both Ballard's and Pearson's diaries, it perhaps also demonstrates the power of recording weather in a historical diary--language of any kind carries weight, and so no term is irrelevant.
Works Cited
Blevins, Cameron. "Topic Modeling Martha Ballard's Diary." Cameron Blevins, 1 Apr. 2010, www.cameronblevins.org/posts/topic-modeling-martha-ballards-diary/.
"Indian Summer, n." Oxford English Dictionary, 2021, www.oed.com/view/Entry/94406?redirectedFrom=indian%2Bsummer%2B#eid.