Pearson and Depression - By Samuel De Spuches
In his youth, and perhaps throughout his life, Pearson suffered from what today might be diagnosed as anxiety and depression. In the 19th century, however, the knowledge and view of these mental states were very different: they seemed connected to a disease of the stomach called "dyspepsia". The following is a glimpse into what was thought back then and what we can tell about his issues through close and distant reading.
The general feeling of sadness wasn't studied enough or deemed serious enough in the 19th century to have its own categories of mental illness: ""Up to the dawn of the 19th century, forms of behaviour that (from our perspective) had little in common were included under the general class, melancholia (Madden, 1966)."... "Sadness can occasionally be found among these symptoms but was not used for definition in any real sense." (Lewis, 1934)" (Berrios, 1988). From this we can deduce that it may have been harder for people like Pearson to deal with their issues, since society didn't take those issues as seriously as today.
Although there were signs of anxiety and depression before Pearson started having serious health issues connected to his stomach, it seems that when that symptom came into the picture, his mental state only got worse: "I have again induced a pain in my side, dyspepsia, and all the distressing concomitants of sleepless nights and depressed spirits. My courage and resolutions for study have left me" (The Diary of Jonathan Pearson, Monday January 26, 1835). He clearly felt defeated, and was losing his rigorous work ethic. A few years later he would try to confront his situation and accept that his mental state was going downhill:
Wednesday March 8, 1837. I am resolved to quit college and pedagoguing [sic] forever. My health will not permit me to follow such a manner of life. For two years now I have been more or less afflicted with a pain in [my] side and palpitation -the concomitants of Dyspepsia. In such a state of body, my mind becomes depressed and I become offended at the very thought of a sedentary life. (The Diary of Jonathan Pearson).
This diary entry exemplifies the 19th-century assumption that body and mind were thought to affect each other: "Such is the connection between body and mind that the causes of this species of unhappiness may be traced either to some disorder of the former, which acts upon the latter, as a dyspepsia in the stomach is generally followed by a similar affection of the head, or to some peculiar sensibility of the one," (Berrios, 1988). I therefore hypothesize that his physical condition gave him a good excuse to accept his mental problems and accept them.
The following overviews Pearson's happiness throughout the years:
Pearson's Sentiment Analysis: "Happy" Words minus "Sad" words.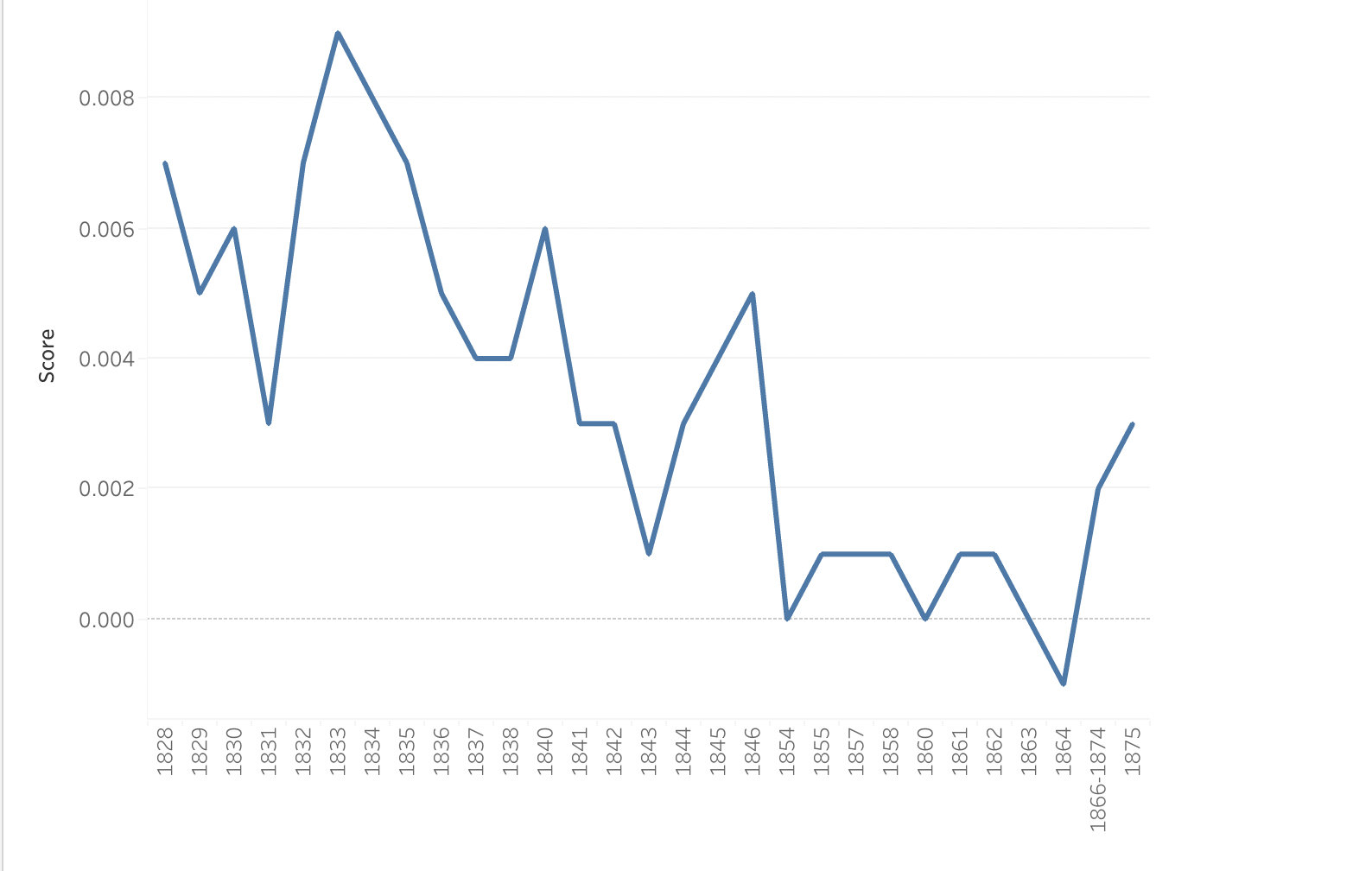 The image graphs a sentiment analysis of Pearson's diary. It shows the use of words that convey sadness subtracted from those that convey happiness to track the trend of when Pearson was more sad than happy (and vice versa) through the years. It's done using a software called Lexos that parses through every word in the text. By giving it a list of "happy" and "sad" words, it's able to determine how many of each there are in the text, and it will calculate a score. The lists consist of 200 happy words like "happiness, laughter and joy" and sad words, such as "abandon, alienated and adverse". Then, the results are organized in Excel, and finally fed to a graphing program called Tableau. This allows you to choose what type of graph is best to visualize the data. In this case I found that a line graph worked best. From the graph we can see that his years as a student at Union College were his happiest (between 1833 and 1836), but before that he was already struggling with melancholy. As his life progressed, it only got worse as the graph trends down. The results of the graph, confirm the general feel of the years 1829 and 1830. Pearson was struggling with his faith, and with his overall happiness; in fact we see the graph go down compared to 1828.
The use of this sentiment analysis software can give really interesting results that can be hard for the human eye to pick up on; we are able to analyze what we're reading, but it's harder to take an entire text into consideration, which is what the computer can do. That being said, the results are not necessarily accurate, since there are many reasons why he could have used "sad" words that weren't related to his own state. In addition to this, the dictionaries use modern words to analyze a text from the19th century, so it's possible that some words in the text aren't even counted as "sad" or "happy" words. Here's an example of how his struggles may not have been picked up by the software: "I dont [sic] know as I feel any more comfort or ever shall." (The Diary of Jonathan Pearson, 58). The software will interpret "comfort" as a positive rather than negative word, causing the results to be skewed. This tool can be really useful, but should also be taken with caution.
Bibliography
Berrios, G. E. (1988). Melancholia and depression during the 19th century: A conceptual history. British Journal of Psychiatry, 153(3), 298–304. https://doi.org/10.1192/bjp.153.3.298