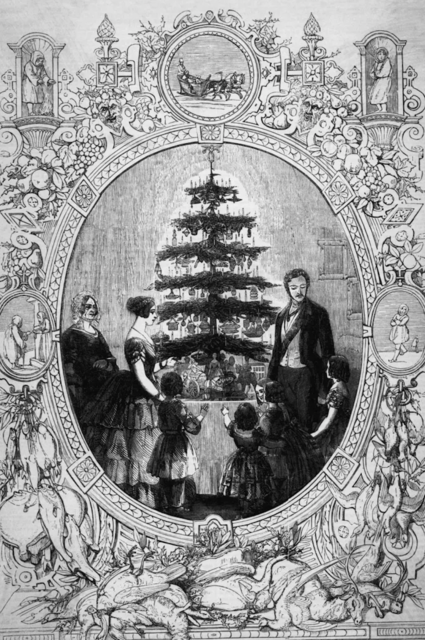 Full description
While many Christmas traditions seem as if they have been practiced since the founding of the United States, many did not come to exist until the mid to late 19th century. While Christmas trees were common in Germany and beginning to gain traction in England among the upper class, the first record of one on display was in the United States was during the 1830s by the German settlers in Pennsylvania. This is not surprising, as many within the United States had opposed any 'pagan' traditions that detracted from the true meaning of the holiday. Oliver Cromwell lobbied against "heathen traditions" like Christmas carols, decorated trees, and other festivities that did not exhibit the true meaning of the day.
In 1846, Queen Victoria and her German Prince, Albert, were shown in the Illustrated London News (pictured here) standing with their children around a Christmas tree. As her popularity flowed across the pond, soon Christmas trees became popular in both England and the United States. Similarly, other Christmas traditions, such as Charles Dickens' "Christmas Carol," was not published until 1843 and many popular carols weren't written until later that century (O Come all ye Faithful, 1843; O Little Town of Bethlehem, 1868; Away in a Manger, 1883). Santa himself was not heavily associated with Christmas in the United States until newspapers created separate sections for holiday advertisements that featured images of the newly-popular Santa Clause in the 1840s.
Image and information courtesy of https://www.history.com/topics/christmas/history-of-christmas-trees and https://www.history.com/topics/christmas/santa-claus.